I have made this Card for two challenge
For de Alles met en over kleuren met derwent
And the Magnolia challenge In the Garden.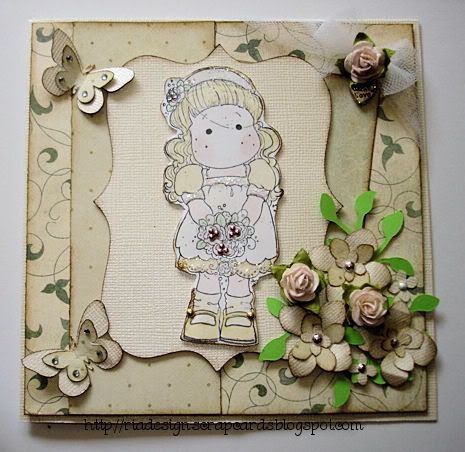 Dit kaartje is gemaakt met
ColorCore creme
het papier is van My mind's eye
De rechthoek en de vlinders zijn gemaakt met mijn cricut expression.en bewerkt met steentjes van de hotfix.
Roosjes zijn zelf gemaakt.
De stempel is van Magnolia uit de nieuwe serie wedding collectie en is ingekleurd Derwent en bewerkt met sticksels stary dust.
Bloemen zijn gemaakt met de pons Hydrangea groot en hydrangea 3 in 1 van Martha Stewart. en bewerkt met steentje voor de hotfix
De blaadjes zijn gemaakt met de cricut
Lint komt van de markt.
gebruikte derwent potloden
Gezicht,armen en benen-c570,c190
Haar-c530
Jurk-c570,c010
Bloemen-c190,c490
Schoenen-c580
hoedje-c570-c490